Mens Final Ruben Vitoria v Jorgann Couzinet
The sun & the waves conspired with some exciting surfing on finals day at the WQS event, Las Americas Pro, Tenerife.
A full drama final saw the young Basque country surfer Ruben Vitoria after a tentative start, against an in form seasoned competitor Jorgann Couzinet, throw hesitation aside to surf the come back heat of his life.  
After Couzinet combos Vitoria in the first few minutes with a devastating 8.67 and an 8.83, you could physcially see Ruben relax feeling a near defeat and just go for broke, his surfing loosened up as he became much more vertical and snapped the lip over and over again to the whoops of the crowd..posting a 9.10.  He realises he is still in with a chance and motors back out to the peak.  In sync he spins around on a beautiful set wave cranking up the dynamics of each and every turn.  
The crowd feels the energy the judges loving the critical go for broke surfing as he is rewarded wth a deserved perfect 10. To be forever know as Ruben "the comback kid" Vitoria.  
I managed to drop Ruben a little advice on not spending all the 10,000$ prize money in one night out in Las Americas!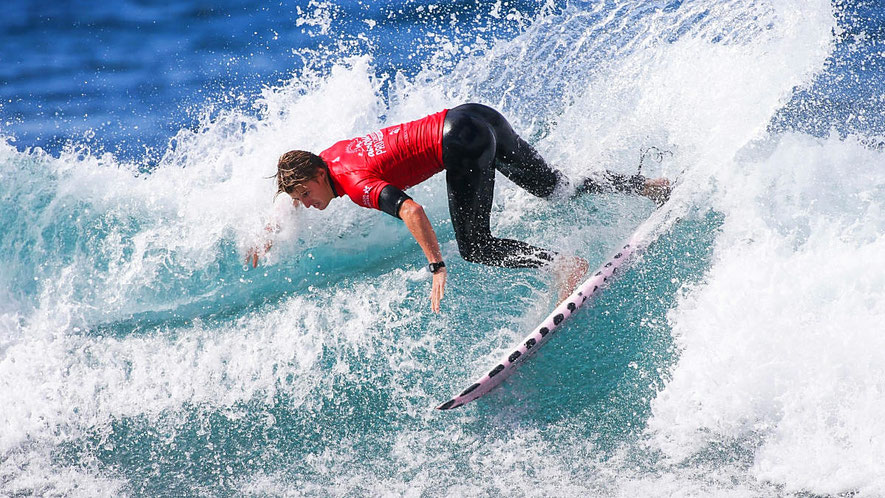 Girls Final Pauline Ado v Mikaela Greene
With female surfing in Europe exploding with talent it was an Australian surfer Mikaela Greene who took the title with a cool head, a series of verical snaps and sound heat strategy.
Pauline was very close, drawing nice lines and carves but didnt quite match the vertical attack of the pocket by Mikaela scoring a 7.00 over Pauline's 5.67 in the opening exchanges.  The French surfer Pauline puts a few more scores on the board and scores an early lead in the final but is sold on a wave as she tries to hold on to the lead.
The cool competition head of Mikaela sees her post a 8.90 with a series of vertical back hand snaps on a bigger set wave with priority to take over the lead and eventually the title.