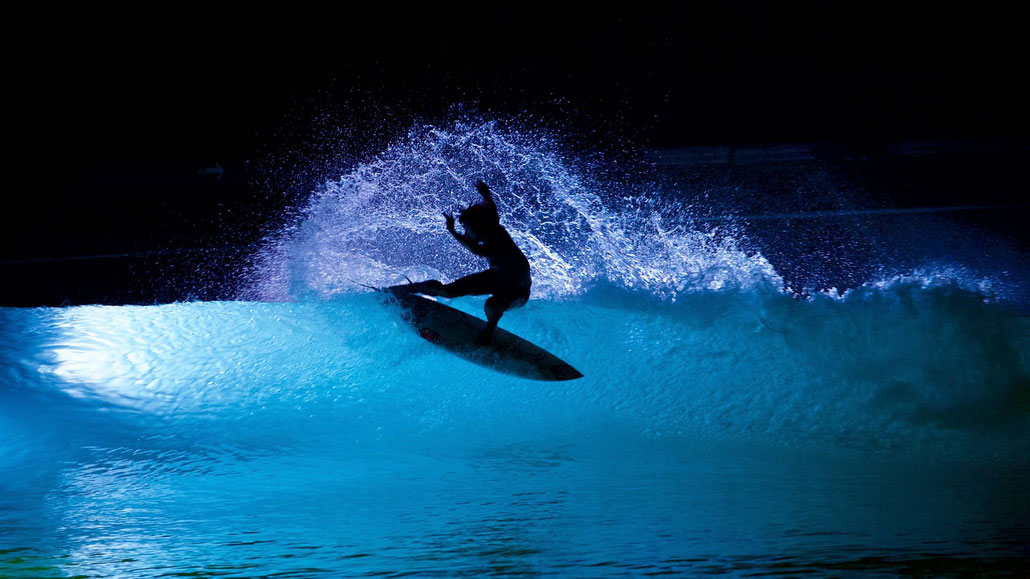 Wave abundant Australia is planning to build a wave pool, strange? 
Wave abundant Australia is planning to build a wave pool, strange? As a surf coach & waterman who has worked and played in the ocean all of my life, I believe ocean knowledge is fundamental to the surfing experience.  Over time your knowledge increases and you are rewarded with a wave.  
So what does surfing an inland, man made wave pool offer?  Is it a useful training tool for improving surf technique?  Is it a surf junkies quick fix?
True reward is gained through patient sustained effort and learning. Something gained too easy often leaves you feeling empty, like a one night stand....
Andy King, surfing Australia's national coach is quoted to have said, "Three days in that pool is equivalent to three months' ocean training".  
From a coaching perspective I can really see the advantage in setting a string of manoeuvres, to focus on flow.  Compound improvement through repetition & feedback.  Kelly (Slater 11x World Champ) explains that his wave pool design is ideal because you can change the shape, speed & pitch for training purposes, controlling the learning environment.  An artificial wave will also give surfers the ability to go all out and risk everything & repeat.  In this future I can see wave park specialists developing new tricks performed specifically in parks, kick flips and wake boarding type aerials.  There would be no reason not to have fixed straps on smaller lighter equipment as you don't necessarily have to paddle into and pop up on a wave.  Manoeuvres are likely to be less "functional" and more "aesthetic".
From a commercial point of view a wave pool is an obvious choice to venue & promote surfing world wide.  Consistency and the ability to flick a switch for a contestable wave will make it the perfect choice to showcase surfing 2020 Olympics in Japan.  A virgin audience where the subtleties of wave selection, line up tactics maybe lost to them.  
An artificial wave environment will give other countries a chance to introduce the sport of surfing to their inhabitants.  Certainly for me it will increase the number of potential clients world wide who might have grown up surfing a pool but want to have guiding or coaching on how to take those skills to the ocean.
As a purist I still prefer to see the ocean throwing up a warp in the face, an unexpected chandelier in the tube, a sudden close out section....the very essence of a wave, the fact that no two waves are ever the same means a surfer who is in tune, who is in sync blows our mind by reacting to the waves quirks, for me this defines a surfing "master".  His or her ability to adapt to change, to see things in the ocean that others do not.   
In a surf contest, experience and wave knowledge is paramount, choosing the right line up and knowing which wave to paddle for, reading the swells characteristics as it approaches the bank or reef often determines a heat win.  It certainly keeps the surfing world title race edgy and exciting with this element of luck.  This unique ability matures as we can see Kelly just announcing he has no plans to retire and will continue to seek a 12th World title at 44 years of age, with many still believing he has a very real chance!
Out of the root of surfing we have seen many branches and off shoots like skateboarding, snowboarding, windsurfing, long boarding, short boarding, body boarding all share the same family tree.  I feel that wave pools will just be another relative of the family of surfing with similar characteristics but a personality all of its own.  
I can see the World Surf League (WSL) adding a wave pool like Kelly Slaters Wave Company to the world championship tour.  However, I think the ocean will always be the testing ground for a true waterman.  The WSL has just purchased a majority stake in Kelly Slater Wave Company (KSWC) "May 24, 2016, Santa Monica, CA -- WSL Holdings, the parent company of the World Surf League (WSL), today announced an agreement in principle to acquire a majority stake in the Kelly Slater Wave Company (KSWC)".  
With the proviso that, "the partnership between the WSL and KSWC will be dedicated to promoting the growth of high-performance surfing around the world. KSWC's revolutionary technology creates a number of possibilities for the future of the sport. The WSL and the KSWC envision the build-out of a global network of WSL-branded high-performance training centers utilizing this wave technology".  
Kelly Slater vocalises in his own words what many surfers feel about this development and pretty tidily sums up the feeling of my article; "While surfing for me will always be about adventure, travel and the ocean, this wave brings a new opportunity to the sport without taking away the soulfulness that attracted many of us to surfing in first place, surfing great waves in a controlled environment adds a new dimension, as there is no hassling for waves, no stress over who got the best wave – they are all good. Everyone can relax, have fun and focus on improving their surfing."
Sources: http://kswaveco.com/press-releases/wsl-holdings-to-acquire-kelly-slater-wave-company
Author: Justin West
© www.justinwestcoaching.com